WeTV Playing the Mama June Long Con
---
I am a woman obsessed. Ever since Honey Boo Boo's appearance on TLC's Toddlers and Tiaras, I've been utterly fascinated by this family. For a time there, Honey Boo Boo/Alanna would spout little nuggets of truth that I could identify with.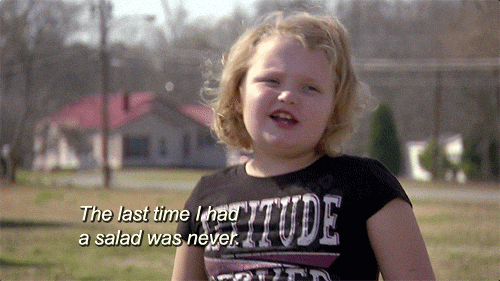 But I've had to feed my curiosity from afar. I never watched an episode of Here Comes Honey Boo Boo because while I'm willing to pay to watch (Godtopus help me) Real Housewives of Orange County/New York/Atlanta, I can't in good conscience bring myself to pay for it on Amazon to see Mama June and her progeny and their shenanigans. I also casually, yet occasionally, cruise gossip sites like RadarOnline or TMZ to see what kind of news spews forth of that family. I dare not to devote too much time falling into the Mama June/Sugar Bear/Honey Boo Boo spiral for fear of what kind of analytics Google associates with me. Also, I don't want those algorithms changing my Amazon "What Other People are Buying" section.
So when WE announced their show Mama June: From Not to Hot, my eyes grew as big as dinner plates. This is the car wreck I could get behind - only from afar. I find myself in a very Icarus-like state with this family, only less of a "burning from flying too close to the sun" scenario and more of a "being sucked into a black hole" one. You see, the whole clan has been entangled in a ton of scandals, including the one that got them cancelled by TLC. Three years ago, Mama June started to date Mark McDaniel; a man freshly released after spending 10 years in prison for molesting an 8-year old girl.
That 8-year-old girl was one of Mama June's daughters, Anna. It was for that reason that TLC, in the best thing that network has done in its history, cancelled Here Comes Honey Boo Boo.
Now was this the catalyst for Mama June's tremendous weight loss? Probably. She underwent gastric bypass surgery a little bit after this, so it's plausible. So when I heard that Mama June had dropped from 460 pounds to a size 4, I wanted to see what that would look like. Amazing human being Geek Girl Diva put out a request to her followers on Twitter two weeks ago on my behalf to procure images of this dramatic transformation. But this feat proved nearly impossible as pictures of Mama June haven't been readily available over the last two years, probably in preparation for this show. That is until one of Geek Girl Diva's little birds delivered today.
That's….it? To say I am underwhelmed is an understatement. I don't want to shame Mama June for her weight loss, because having recently lost a bunch of weight myself, I wouldn't wish that kind of scrutiny on anyone. I can't imagine what kind of stress that carrying 460 pounds on a body frame that can purportedly accommodate a size 4, too, would be like. Additionally, body image wise, the adjustment to that size has to be unbelievably difficult. But I kind of feel had, in a way?
Anyway, I hope the folks over at WeTV have also provided Mama June with therapy during all of this, because that's quite an adjustment to make physically and emotionally, and based on what I've seen, it can only help to have that kind of additional coaching. Then again, they probably won't. Not if the family's dysfunction is their cash cow.
Now if you'll excuse me, I have to get away from the internet for a bit, because I have spent way too much time Googling information on this family for it to be considered healthy. And now probably have Crocs on my Amazon shopping list.
Follow Bekka Supp on Twitter and on the podcast, Debate Club.
---
Read More