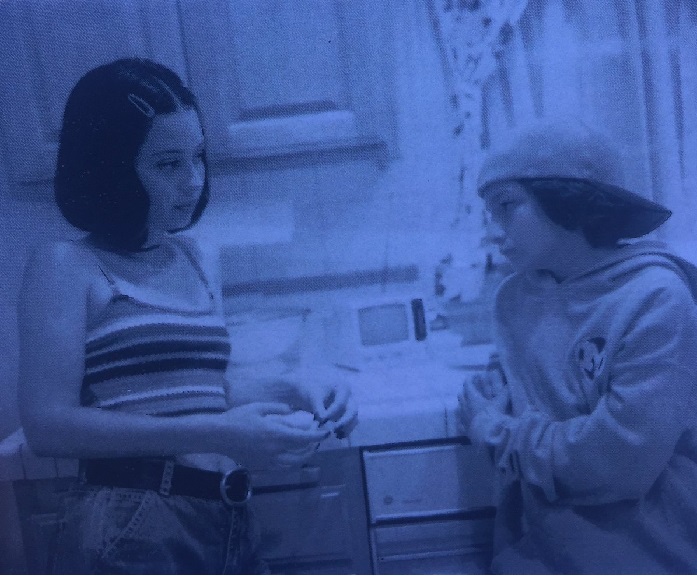 'Mid90s' Uses a Super-Uncomfortable Sex Scene to Make Its Young Protagonist Cool, Because Of Course It Does
---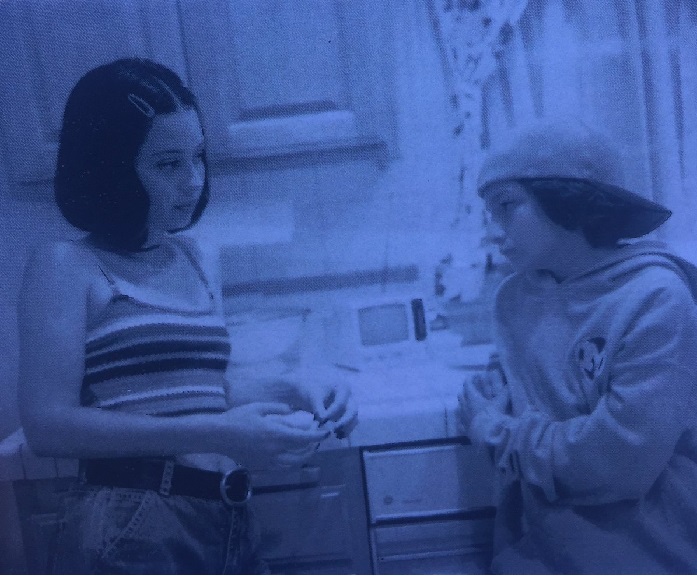 There are already so many narratives percolating around Mid90s, Jonah Hill's directorial debut — people (superficially) comparing his film about teen skaters with Greta Gerwig's Lady Bird; people criticizing his constant namedropping of other (male) filmmakers, like the Coen brothers and Martin Scorsese; and people, like Kristy in her on-point review, commenting on the nearly constant use of homophobic language in his script — but nothing really prepared me for a certain scene in the movie, which I saw on Monday at a press screening with a friend. So, you know, SPOILERS AND STUFF, because we're going to get into it.
Here's the thing: Mid90s treats its female characters like crap and pretty much features a scene with borderline statutory rape as a cool thing. Whoa, so intense! So '90s! You're such a visionary, Jonah Hill! Did all your (male) filmmaker friends support you on this choice?
Mid90s focuses on the young skater Stevie (Sunny Suljic, currently 13 years old, 11 years old during filming), who lives with his abusive, rap-listening, Hilfiger-wearing 18-year-old brother Ian (Lucas Hedges), whom he simultaneously idolizes and is terrified of, and his single mother Dabney (Katherine Waterston, underused). "Stay out of my fucking room, Stevie," Ian sneers, and when he's around he's either beating up Stevie or swigging from a gallon jug of orange juice or both, and Dabney is usually absent, unless there are random men coming out of her room, buckling their pants (of course Harmony Korine makes a cameo as one of those men), and so Stevie is pretty much on his own. He's a polite, quiet kid, and he doesn't really talk much, and it's unclear what he wants or who he really is.
That begins to change one afternoon when he sees a group of older kids with their skateboards, and he loiters around them enough to eventually get folded into their crew, even though he's never stepped on a board before: even-keeled group leader and best skater Ray (Na-kel Smith, the absolute best part of the film), the bombastic womanizer Fuckshit (Olan Prenatt), the quiet but constantly filming Fourth Grade (Ryder McLaughlin), and the younger Ruben (Gio Galicia), whose first interaction with Stevie is telling him to never thank anyone for anything because to do so would be "gay" and "f——- as fuck."
Ruben is already jealous of Stevie, see, because he's the youngest member of the crew, and Stevie is treading on his territory, especially when Ray takes a quick liking to him and nicknames him Sunburn. There are all these different kinds of intragroup rivalries within the crew: Ray and Fuckshit are close friends but the latter is increasingly mocking of Ray's dreams to go pro; Fourth Grade is kind of dumb but well-meaning, even when he says things as ridiculous as "Is it cool to be black?" The group is close but also increasingly fractured, and yet Stevie is enthralled by them, enamored with how Fuckshit, who tries to pick a fight with Ian (unaware that he's Stevie's brother), isn't scared by Ian's faux tough-guy tactics, and willing to do anything they do, whether that's trying to jump over a gap in a roof on his board or drinking 40s or smoking cigarettes.
How old are these kids? Fuckshit says he's a junior in high school, which leads me to assume that Fuckshit, Ray, and Fourth Grade are all about 16 or 17 years old. Although I don't think Stevie is ever identified by a certain age in the film, the A24 press materials for Mid90s age him at 13, and so that makes me think Ruben is about 14. Those are all ages when kids do stupid things, and to be fair, the movie does portray Stevie's and his friends' choices as increasingly dangerous. But the one scene the movie doesn't seem to judge negatively in any way is pretty close to being a depiction of statutory rape, and I don't understand why that gets a fucking pass?
The scene is this: Fuckshit invites all the guys to a party that is being held by a group of girls at one of their homes; at this point, we've only seen the girls once, at a park where the boys skate. The boys get there, they drink, they smoke, Ruben broods while people fawn over Stevie, and then out of nowhere one of the older girls, Estee (Alexa Demie), starts talking to Stevie. She looks very much like a delia's-wearing '90s Cool Girl, with a midriff-baring top and hairclips holding back her bob and every makeup color a different shade of mauve. Looking at them together, it is obvious that Estee is older, and given how often she talks about Fuckshit, I am assuming that she is meant to be around his age — so, 16 or 17, vs. Stevie's 13. In real life, remember, Suljic was 11 during filming, and while I can't track down Demie's real age online, I did find a November 2017 interview that mentions she began writing music and poetry when she was 12. So, clearly she is no longer 12, which means that whatever age she is, she is certainly older than Suljic's 11. Which makes this sex scene even grosser.
What is the point of it? To make Stevie cool. For some reason, this older high school girl is charmed by Stevie ("You're at that age before guys become dicks"), buys his "I don't kiss and tell, I'm a gentleman," and then leads him into a bedroom, where she tells him to "take my clothes off" and then begins kissing him in her underwear while they're on the bed together. More than once, she says to him, "Don't be nervous," and this is when my friend who was with me covered her face and refused to keep watching. Stevie looks like a child, and Estee looks like a young woman, and the only reason this sex scene exists is to demonstrate how awesome Sumburn is getting because of his new friends.
This is furthered by how the boys exuberantly congratulate him on the hook-up when Estee and Stevie emerge from the bedroom; when he giddily tells his friends, "She let two of my fingers in her vagina, she was touching my dick, it was crazy!" it's a moment of young masculine triumph. No one seems to think that a (presumed) 16-year-old and a 13-year-old hooking up is uncomfortable, or possibly even statutory rape, and because we always play the "What if their genders were switched?" game, well, what if their genders were switched? What if this were a 13-year-old girl hooking up with a 16-year-old young man? Would the film be similarly applauding that? Or is this a "Well, boys will be boys" scenario? Because we've all seen how well that's worked out culturally for us until this point.
Estee doesn't do anything of note in the rest of Mid90s, of course; when she returns to her group of female friends, one of them says to her "He's gonna worship you for the rest of his fucking life," but then they immediately go back to fawning over Fuckshit. And later on, when all the area's skater kids are hanging out together, Fuckshit and Stevie both walk by Estee, ignoring her, not interacting with her, not even acknowledging her presence. Estee's friend's assumption that Stevie would "worship her" turns out to be wrong. Stevie's sexual experience with her already made him cooler to his friends; she no longer matters.
Other reviews or features about Mid90s I've read have called this interaction "a particularly memorable party scene" (in GQ) or "sexual initiation" (The Chicago Tribune), but no one is going far enough to call it statutory rape, and perhaps that's because the movie is so vague about these kids' ages. Maybe you could make an argument that Estee just looks old for her age, or Stevie looks young for his age, and who cares, it's just two teenagers having a good time at a party. Stevie is clearly drunk and high, sure, but he wanted it, right?
Is the movie making some kind of point about how Stevie is just re-enacting what he sees those random men do to his mother? Possibly, but we don't ever get Dabney's side of the story; she doesn't explain her choices. In fact, her largest speech is when she drags Stevie to the skate shop where the boys hang out and she screams at them to leave her son alone; in response, Fuckshit flirtatiously asks for her phone number. Because that's what all women are in Mid90s, whether they're teenagers or adult women — sexual partners, first ways to assert hipness and then figures for disgust (when Ian tells Stevie about hearing "fucking sounds" coming from their mother's room, Stevie's response is "Fuck Mom"). Both Estee and Dabney are used and cast aside in Mid90s, and that inappropriate sex scene is only one component of how Mid90s fails the few female characters it even allows into its narrative.
Honestly? Just watch Skate Kitchen instead.
---
---
Image sources (in order of posting): @mid90smovie, http://mid90s.movie/
---
Read More