It's Ok, Everyone. You Can Still Wear Leggings on United Airlines Flights. Mostly.
---
In case you missed it, a United Airlines gate agent prevented two teenage girls from boarding a flight from Denver to Minneapolis on Sunday morning and required a 10-year-old to change into a dress after the agent decided the leggings they were wearing were inappropriate.
3) Gate agent for flt 215 at 7:55. Said she doesn't make the rules, just follows them. I guess @united not letting women wear athletic wear?

— Shannon Watts (@shannonrwatts) March 26, 2017
@shannonrwatts In our Contract of Carriage, Rule 21, we do have the right to refuse transport for passengers who … https://t.co/52kRVgaCyb

— United (@united) March 26, 2017
A couple of fast facts to provide some context:
- United wanted to reiterate (several times, in fact) that the girls were not in compliance with the company's policy
That's it. That's all the policy says. There's no clarification as to what is considered "properly clothed." But to a gate agent, a 10-year-old wearing leggings is apparently not proper. Clutch your pearls, folks it gets better.
- Another thing to consider is that the girls were flying as United pass riders.
The passengers this morning were United pass riders who were not in compliance with our dress code policy for company benefit travel.

— United (@united) March 26, 2017
And this is where United dropped the ball. They referenced a policy on Twitter that is for paying customers versus non-revenue United pass travellers. From the United website, the airline had to clarify the whole situation to everyone who didn't know the intricacies.

These are relatives or friends who also receive the benefit of free or heavily discounted air travel - on our airline as well as on airlines around the world where we have mutual agreements in place for employees and pass riders.

When taking advantage of this benefit, all employees and pass riders are considered representatives of United. And like most companies, we have a dress code that we ask employees and pass riders to follow. The passengers this morning were United pass riders and not in compliance with our dress code for company benefit travel. We regularly remind our employees that when they place a family member or friend on a flight for free as a standby passenger, they need to follow our dress code.
It takes a bit of digging, but there is a distinct difference in dress code policy between the two. As cited above, the policy has a wide scope of interpretation of what is considered being improperly clothed. However, with United pass passengers, they're considered brand ambassadors of sorts and have to adhere to a different, more comprehensive policy:
Of course, the internet is going to do what the internet does best: RAAAAGE.
I have flown united before with literally no pants on. Just a top as a dress. Next time I will wear only jeans and a scarf.

— christine teigen (@chrissyteigen) March 26, 2017
Also, Teigen gets it.
Meanwhile someone at the daily mail had to google stock photos of "10 year old in leggings" that's prob the real crime pic.twitter.com/jkn9zKKzbR

— christine teigen (@chrissyteigen) March 26, 2017
@united @PattyArquette Friendly Advice, United: No one is nearly as offended by a little girl in spandex as they are by this situation.

— Nick Bolton (@NickBolton13) March 26, 2017
@united @SarahKSilverman yeah. They are only trying to treat the teenage daughters of their employees like shit. Not everyone else.

— Seth Rogen (@Sethrogen) March 26, 2017
I applaud @united for making those girls change their leggings. Nothing on a plane offends me more than a comfortable woman.

— Jim Norton (@JimNorton) March 27, 2017
.@united I have flown numerous times while displaying an egregious mooseknuckle. What's a male over 10 have to do to get noticed?

— Andy Richter (@AndyRichter) March 26, 2017
To be 100% clear, was the gate agent correct in enforcing United's non-revenue passenger dress code? Perhaps, yes. Was the gate agent correct in enforcing a policy to underage children? Probably not. And I think therein lies the rub. The way United handled this situation, especially on Twitter, would've been to not overdo it. By that I mean, acknowledge that these are children and they're lucky the kids are wearing clothes AT all. Secondly, not make a huge fucking deal out of nothing when a correct response would've been, "oh hey valued family, didn't know if you were aware of our dress code for passengers flying for free, but next time, please be more mindful of our policies." That way, they avoid headlines like these:
My biggest issue with this story, and dozens like it that dominate the news for a hot second then fizzle out, is that most major news outlets report it as "this weird thing happened that we could've ignored, but it's been a slow news day" and then social media sinks its teeth into it. Of course the "Internet" didn't really have a meltdown over this. A bunch of people were angry on Twitter and were reactive and drew a conclusion before presented with all the facts. There's a huge difference between those two instances. Does the population of adults on Twitter represent you or the public at large? Nope. Most of the time, they just represent what the loudest people think. The point is, sometimes the people who erupt on Twitter aren't representative — they're reactive. That's what happened here. My parents had a 24-hour rule for us: if we ever wanted to do something or wanted permission to have friends spend the night or something along those lines, we had to give them at least 24 hours notice. That has evolved for us as adults to waiting 24 hours before we react to most things that elevate our pulses. Meaning that we take whatever news we receive and instead of reacting instantly, we take 24 hours, in case information changes or it doesn't matter as much to us after the initial shock. I think it would benefit many to follow that advice. Except Delta Airlines. They're the only winner out of this whole situation.

Flying Delta means comfort. (That means you can wear your leggings. 😉)

— Delta (@Delta) March 27, 2017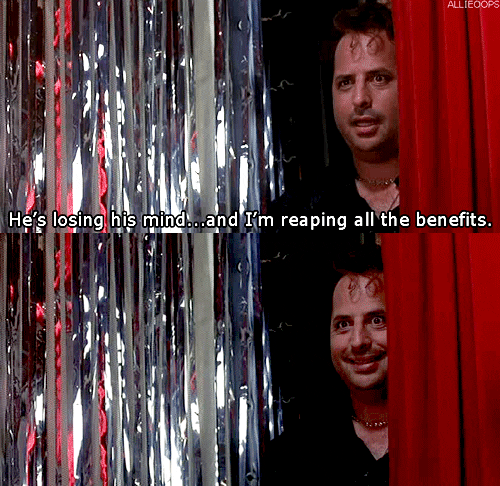 Follow Bekka Supp on Twitter and on the podcast, Debate Club.
---
Read More