If You Vote for Me, I Will Bake You Cookies (Warning: I Might Not Actually Bake You Cookies)
---
I first mentioned this a couple weeks ago, but I wanted to give it one more re-post before voting ends this Friday. I've submitted a panel idea to South by Southwest, and you can help it earn a spot in the festival line-up by going here and voting it up. Brief registration is required, which I know can feel like a hassle, but it's the best way to ensure that someone doesn't game the system and flood it with votes for their own panel. Every user gets one vote per panel.
The panel itself will be about the relationship between film critics and studios, and what it takes to stay honest in an era when swag is easier than ever to come by. Here's what I said about it last time:
The title is "You Are Not a Publicist: Criticism vs. Advertising." The goal of the panel discussion is to talk with other critics and the audience about the appropriate relationship between a critic and the studio whose content they cover, and how that relationship can be compromised in the digital age if a critic isn't careful. The independent spirit behind it is one of the things that makes Pajiba an interesting place: I believe a critic's duty is first and foremost to the work at hand, not to those who promote the work. The panel will hopefully be able to round up interesting viewpoints from all corners of the critical world, and I think it's got the potential to start some important and fun discussions about our collective passion for movies.
Voting ends Friday night, so if you haven't signed up and voted for the panel, I'd greatly appreciate it if you did. Thanks all.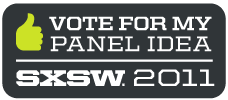 ---
Buy a Pajiba T-Shirt at the Pajiba Store.
---
Next Article
---
Blood in the Mashed Potatoes
---