F#, Star Trek, and the Female Orgasm
---
If frequenting this site has taught me anything, it's that y'all are a bunch of band nerds (and I mean that with the greatest amount of affection.) I know that cinematically, band nerds get a bad rap for being hormonal teenagers with flutes, but perhaps we should be applauding them in their efficiency efforts when it comes to using their instruments for good (or evil, as this particular case might be.) I'm talking about the female orgasm.

No, because we still want to get ours, too, gentlemen. And there may be a way, thanks to some enterprising lads on the website Ultimate Guitar. Several commenters on that site have claimed that a woman can reach orgasm using one simple trick: having your partner sit on an amp, plug in your bass, and pluck that sweet F# until your partner "gets her where she wants to go."
Now to be fair, using a bass or a guitar to achieve such a feat has been used in a variety of ways. For example, in Jurassic Park, the iconic T-Rex stomp with a glass of water was achieved by the pluck of a guitar string under the car in order to get the glass of water to vibrate.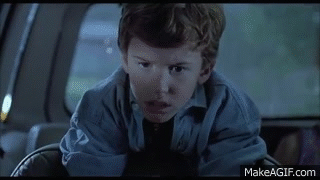 While it's not so much the actual F# that does the trick, it's the vibrations from the note that revs the engines, as it were. Broadly took this a step further and investigated whether or not there is a musical note than can cause women to orgasm. Their investigation led them to former child star Craig Huxley. Huxley invented an aluminum machine in the seventies called the "Blaster Beam" which could apparently induce orgasms with a single note. The "Blaster Beam" was developed originally to produce a range of sound effects, and is famed for featuring in the 1979 film, Star Trek: The Movie.
In an interview with Broadly, Huxley explained:

Many women have thanked me for it. The Blaster Beam stimulates the sacral chakra, which lies about 5 cm below the navel. And it also stimulates the root chakra, located at the lower end of the spine. It's like an eighth and a half below the lowest note of the piano … It's the lowest note there is.
As our Victoria pointed out, "chakra" is a funny word for "clitoris."
Huxley maintains that it's mostly an E note, but that an instrument doesn't compare to the Blaster Beam.
So there you have it, your intersection of WTF for the day. F#, Star Trek, sex, and a former child star: words I never thought I'd use in one day. Now if you'll excuse me, I have a banjo that needs tuning.
---
Buy a Pajiba T-Shirt at the Pajiba Store.
---
Next Article
---
If You Still Think Wolverine's Yellow Suit Is Ridiculous, You Should See THESE X-Men
---