Pajiba's Body Language Experts Dissect Trump's Handshake
---
Asserting dominance is one of the many characteristics we share with the animal kingdom. Male snakes shove each other, to prove their strength and stamina. Horned animals usually engage in wrestling matches by locking horns or antlers and shoving each other around. Primates typically engage like younger humans do- hitting, kicking, and wrestling. Sometimes these matches turn violent when primates employ their teeth and get more physical. And with birds, they fluff their feathers, displace, and peck each other to establish dominance.
Which brings us to whatever the hell this is: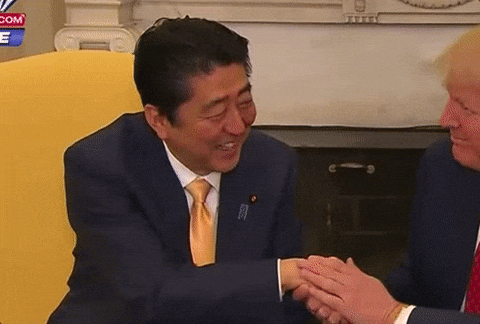 Genevieve: That whole handshake thing just reminds me that every time I hear about grown, adult men discussing "dominance" techniques not related to training dogs or other animals, I immediately downgrade them about five notches in my mind. Gaming out the most "dominant" way to shake someone's hand doesn't make me think you're a confident "alpha male", it makes me think you're a whiny, petty, needy, asshole. Like, I get why it's a thing, but I'll never stop thinking it's a dumb thing. I don't even know if I'd call it toxic masculinity. It's just idiotic masculinity.
Bekka: I know that in the animal kingdom, there are several ways to assert dominance over lesser adversaries. I think that's how Trump thinks he's dominant: he watches wildlife documentaries. I'm just kind of hanging out waiting for him to just pee on someone next. Because we all know how that goes…
Seth: His handshake is totally a bullshit dominance thing and of course he thinks it's important because he's him, but like everything he does, it's fucking exaggerated and overblown.
[National Geographic voiceover] Watch closely as Trudeau wards off the arm yank with a dominant shoulder grab. pic.twitter.com/9LftqCNTHG

— shauna (@goldengateblond) February 13, 2017
Victoria: It's so easy to imagine Trump in the throes of a Patrick Bateman business card meltdown over that shoulder move.
Rebecca: Look at him trying to do the pull after that, and Trudeau's not moving AT ALL. You know he made a special point of not skipping arm day in the run-up to that meeting.
Seth: Trudeau is a boss.
Genevieve: I think that the subtext of Trudeau's entire visit is "lol, you're a confused OLD man, and I am young and virile." Which is also petty, but sometimes you need to fight petty with even more petty. Like giving him that photo of Trump with his father.
While S.C.R.O.T.U.S. (So Called Ruler of the United States) is not even trying to hide the fact that he's making the Wall Streetiest of power plays, we can still bask in this little slice of friendly competition heaven: